Trip Info:
Pilgrimage Tour
Easy
Kathmandu Airport
Kathmandu Airport
3710m
1-5 & weight limit is 430 kgs
Hotel
Helicopter
Mar, Apr, May, Oct & Nov
Introduction
5 Hrs Muktinath Helicopter Tour from Kathmandu- Highlight
Wonderful views of Kathmandu Valley and Pokhara City.
Bird's eye view of the biggest stupa in Asia - Boudhanath Stupa.
Panoramic view of 3 out of 10 highest snowcapped mountains above 8000 meters in the world.
Awesome view of Rupa Tal, Begnas Tal, and Fewa Tal.
Fly between the two tallest peaks Mt. Dhaulagiri (7th highest) and Annapurna I (10th highest).
Aerial view of Ghorepani, Poon Hill Tower, Marpha Village, Jomsom Village (nearest airport of Muktinath), Kagbeni & Muktinath.
Breathtaking views of Ganesh Himal, Mt. Manaslu, Himalchuli, Annapurna Massifs, Fishtail, Dhaulagiri, Nilgiri & Tilicho Peak.
Cover all tours in just few hours from Kathmandu.
Adventurous and easiest Helicopter Yatra to Muktinath Temple.
The Appropriate option for the limited time traveler.
Muktinath Tour by Helicopter is one of the easiest ways to visit Muktinath Temple in a just short period of time. This is a private Muktinath Tour Package for the group of 1 to 5 people in which you will be flown directly to Muktinath Temple either from Kathmandu or Pokhara. You will be picked up from the hotel at early morning then, transferred to Domestic Airport and if the weather permits fly to Muktinath Temple perform pooja/worship and finally fly back to Kathmandu. Muktinath Helicopter Tour is the five hours Heli Tour Package from Kathmandu in which one and half hour time will be consumed on flying (one way) and 1:30 hours grounded time for Muktinath God Darshan.
Kathmandu to Muktinath Helicopter Tour Video
Muktinath Temple is located in the Annapurna Conservation Area at Mustang District of Nepal at an altitude of 3710 meters and 20 km North-East of Jomsom. The Temple is popularly known as "Muktinath Dham" for "Hindus" and "Chumig Gyatsa" for "Buddhist". Hindus worshipped the place as "Mukti Kshetra", from where people are liberated or obtain Moksha. Similarly, Buddhists worship the deity as one of the "Bodhisattvas". It is said that Guru Rinpoche, the founder of Tibetan Buddhism and also known as Padmasambhava, mediated here on his way to Tibet.
Muktinath is the only place on earth where one can find all five elements – Fire, Water, Sky, Earth, and Air. They found in their own form at the place near Jwalamai Devi Temple. Thus, is known as Sri Murthy Mahatmyam.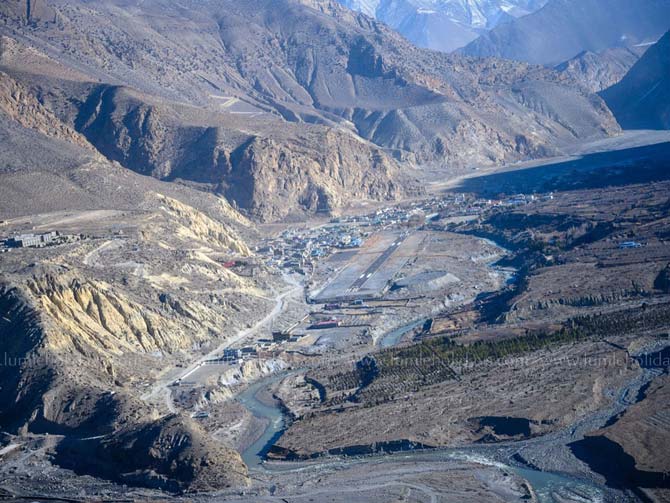 Flying above the Jomsom Village
Muktinath Temple word is derived from "Mukti" and "Nath". "Mukti" means "Salvation or Nirvana" and "Nath" means "God or Master". Mukti holds great significance for all spiritual people in the South Asian sub-continent. Muktinath this Sanskrit name itself has religious overtone and a sort of emotional ring to it for the devout Hindus.
Muktinath Yatra by Road has never been a quick or easy journey due to the geographical difficulties and ever-changing mountain weather. Muktinath Temple can be reached via rough dirt roads drive spending lots of days by four-wheeler jeep from Beni in the south or via hiking from the East or North crossing Thorong-La Pass Mountain at 5416 meters. Therefore, if you lack the time and desire to visit Muktinath Temple in just a day then, this "Muktinath Helicopter Tour" might become beneficial to you.
The first best time to visit Muktinath Temple of a year starts from March till June and second begins from September till December. You will find the blue sky and clear climate throughout these months. You can spot lots of snow-capped mountains ranging from Langtang to Annapurna in the north direction while flying by helicopter.
Pokhara to Muktinath Helicopter Tour Video
Nowadays Helicopter is also available from Pokhara. So, there are two choices available for Muktinath Tour by Helicopter. One is fly directly from Kathmandu to Muktinath Temple and another is from Pokhara. Pokhara is 206 km far from Kathmandu and takes 6 to 7 hours by a private car drive or 25 minutes by regular flight. Muktinath Temple is in 45 minutes flying distance by Helicopter from Pokhara and 1:30 hours grounded time will be provided to visit the temple. Therefore, Muktinath Yatra by Helicopter from Pokhara is just a 3 hours Heli Tour Package.
Muktinath village covered by snow captured from Helicopter on the way to Muktinath at Mustang
Lumle Holidays will assist you to charter a helicopter, take you to the temple, arrange horses to reach up to the temple perform pooja/worship and fly back to Kathmandu or Pokhara. Our Helicopter Tour itinerary goes as follows.
Itinerary
Itinerary I: Muktinath Helicopter Tour from Kathmandu (5 hrs)
In this option, we directly fly by a chartered helicopter from Kathmandu to Muktinath. Perform ritual activities then fly back to Kathmandu. There are no stops on the way except for re-fueling at Pokhara. Travel itinerary goes as follows:
Day 1: Fly Kathmandu to Muktinath by Chartered Helicopter.
06:00 AM: Pick up from the hotel and transfer to the domestic airport.
07:00 AM: Fly to Muktinath by chartered Helicopter.
Muktinath is in 1 hour 30 mins flying distance from Kathmandu.
The flight is highly depends upon the weather.
Enjoy the panoramic snowcapped mountain views.
After landing at Ranipauwa, horse ride for 15 mins.
Short walk and reach Muktinath Temple.
Take bath on 108 chilled holy waterspouts and two Holy Kunda.
Change clothes and perform pooja at the temple.
Horse ride back to the helipad.
Then, fly back to Kathmandu.
Arrival and drop to your hotel.
Our trip finished here!
Itinerary II: Muktinath Helicopter Tour from Pokhara (2 days)
In this option, we take the first regular flight from Kathmandu to Pokhara. After landing, we wait at the airport for another flight. Then, we fly from Pokhara to Muktinath by a chartered Helicopter. After landing, proceed to Muktinath Temple and perform ritual activities. Then, fly back to Pokhara and the next day to Kathmandu. In the morning, the helicopter will be busy in doing their fixed helicopter tour to Annapurna Base Camp. Once, they completed it will be our turn to fly from Pokhara to Muktinath. So, the patience is required here. 
Next day morning, we proceed to explore the natural beauty of Pokhara Village. After sightseeing, we fly back to Kathmandu by regular flight then, drop to your hotel. Muktinath Helicopter tour from Pokhara is the cheapest option compared to the Muktinath Helicopter tour from Kathmandu. We save almost half of the money in this travel option. If you have at least 2 days time then, we suggest you to choose this package. Travel itinerary goes as follows:
Day 01: Fly Kathmandu to Pokhara by flight then to Muktinath by helicopter.
06:00 AM: Pick up from your hotel.
Transfer to the domestic airport.
07:00 AM: Fly to Pokhara, 25 mins.
Wait at Pokhara for the helicopter ride.
Fly to Muktinath by chartered helicopter, 45 mins.
Enjoy the beautiful snow-capped mountain views.
Arrival at Ranipauwa helipad.
01:30 Hrs grounded time to visit Muktinath Temple.
Ride on horse, 15 mins.
Take a holy bath under 108 water springs.
Worship Muktinath Vishnu God.
Horse ride back to Helipad.
Fly back to Pokhara.
Transfer to the hotel.
Overnight at Pokhara.
Day 02: Pokhara Half-Day Sightseeing and fly back to Kathmandu.
Breakfast at the hotel.
Proceed to visit Pokhara City.
Visit Bindabasini Temple, Seti Gandaki River, Devis Fall, Gupteshwor Mahadev Cave, and Barahi Temple at Fewa Lake.
Back to the hotel.
03:00 PM Fly back to Kathmandu.
Arrival and transfer to your hotel.
Our trip finished here!
Cost Includes
Airport Pick up & Drop Transportation by private air-conditioned vehicle.

Twin Bed Room sharing hotel accommodation with breakfast at Pokhara based on five-star hotel.

Kathmandu or Pokhara to Muktinath and back by chartered helicopter.

Entrance Fees during Sightseeing.

Annapurna Conservation Area Project Permit (ACAP).

Sightseeing in Pokhara is escorted by an English speaking guide.

Sightseeing in Pokhara by private air-conditioned vehicle.

Horse Charges at Temple.

Airport Taxes.

All required documents and government taxes.
Cost Excludes
Meals and Beverages.

Tips

Client's insurance.

Expenses incurred due to Medical evacuation, mishaps, landslide, strikes, political unrest etc.

Rest of all not mentioned in cost include.
We are specialized in operating Muktinath Helicopter Tour and above itinerary is fully customizable and can be modified as per your requirement. Please contact us to collect more information on Muktinath Darshan by Helicopter and its fares from Kathmandu or Pokhara or Jomsom. We will help you to visit the temple by helicopter at the affordable cost.
Terms & Conditions for Muktinath Helicopter Tour
The helicopter flight to Muktinath is dependent on weather condition.

Passenger weight should not exceed 430 kgs including belongings.

The company reserves the right to cancel/postpone the flight in case of bad weather or any technical/emergencies.

The pilot-in-command has the full authority to decide on the passenger weight, flight route and ground time at Muktinath due to safety reasons.
Share this trip on:
Book this Trip:
Inquiry this Trip