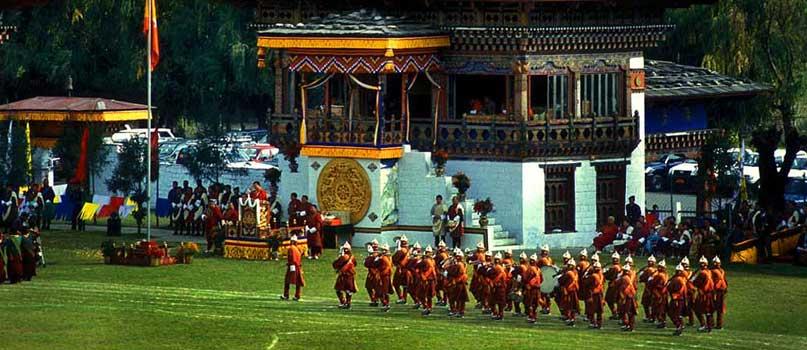 Trip Info:
Bhutan
Kathmandu
Kathmandu
1-20
Hotel
Flight
Feb, Mar, Apr, May, Jun, Sep, Oct, Nov, Dec
Tour Introduction
The flight into Paro, Druk Air, is a befitting introduction to the spectacular beauty of our country. In clear weather, magnificent views of the world's highest peaks give way to the lush green Paro valley as you land.
The first gift from Bhutan will be the cool, clean fresh air as you step out of the plane.
Travel Itinerary
Day 1 : Arrival at Paro (by Druk Air) – Transfer to hotel
After clearing customs and visa control you are met by your guide from Bhutan and drive to Paro town for lunch. After lunch visit National Museum, Ta dzong, an ancient watchtower which now houses the National Museum and visit Paro Rinpung Dzong, built in 17th century to defend the valley against Tibetan invaders. The dzong is now used as an administration centre and school for monks. Evening ends with a stroll through the main street of Paro. Dinner and overnight at hotel Olathang.
Day 2 : Paro – Thimphu
After breakfast drive the winding road to the Drukgyal Dzong, the ruined fort, which was once defended this valley from Tibetan invasions. Mount Chomolhari, can be seen the on a clear day from Drukgyal village. You can visit a typical Bhutanese Farm House of a local family for a close up view of everyday Bhutanese life. We then drive to Shari to hike up (or horse ride) to the Taktsang monastery (Tiger's nest). The horse ride up or hike to the cafeteria will take around one and half hour. At the view point enjoy the stunning view of the monastery, where Guru Padmasambhava landed on the back of a tigress in the 8th century. After lunch at the café walk back to the road point. After lunch at the cafeteria walk back to the road point. On our way back to the hotel we visit Kyichu Lhakhang, one of the oldest temple in Bhutan built in 7th century. Late afternoon depart to Thimphu, the modern capital of Bhutan. The drive will take around 1½ hour. Thimphu has a population of about 98,500. The town is made up of just three lines of shops and is the only capital in the world without traffic lights. Enroute visit Simtokha Dzong. Check In at hotel and dinner will be served. Dinner and overnight at hotel Jumolhari.
Day 3: Thimphu valley sightseeing – Punakha
Thimphu sightseeing includes a visit to the visit National Memorial Chorten, built in honor of our late King Jigme Dorji Wangchuk and also visit the Folk Heritage Museum, which is dedicated to connecting people to the Bhutanese rural past through exhibition of items and artifacts used in rural households, Textile Museum, where the art of traditional weaving is still kept alive and preserved through exhibition and has a good collection of old textiles which are rich in its color and design. Lunch will be served at a restaurant in Thimphu. After lunch visit the School of Arts and Crafts where the 13 Crafts are taught to the Young Children which was established in 1971 with two objectives in mind, a) to preserve and promote the traditional arts and crafts and b) to create more job opportunities. Later in the afternoon depart to Punakha, an ancient capital of Bhutan. Leaving Thimphu the road climbs steeply through a forest of pine and cedar, festooned with hanging lichen high up near Dochula pass (3,050 m).This pass often offers panoramic views of the Himalayan mountain ranges. After stopping for tea and the view, we descend along a series of hairpin bends to the fertile valley of Punakha. Check in at hotel Meri Puensum/Zangtopelri. Dinner at the hotel.
Day 4: Punakha – Wangdue – Paro
In the morning visit Punakha Dzong, winter seat of the Je Khenpo and the Monk Body, remarkably located between the rivers of the Mo (Female) Chu and Pho (Male) Chu. A short drive from Punakha will take you into the valley of Wangdue, one of the major towns and district headquarters of Western Bhutan where we make a stop to view the Wangdiphodrang Dzong dramatically located on the spur of a hill at the confluence of the Tsang Chu and Dang Chu rivers and then drive to Paro over the Dochola pass to Paro. Dinner and oovernight at hotel Olathang.
Day 5: Paro – Kathmandu (by Druk Air)
After an early breakfast served at your hotel and drive you a short distance to the airport where your Bhutanese escort from Bhutan will bid you farewell at Paro airport. Good-bye and happy journey back home.
Trip Cost Includes
Airport pick up and drop by our private car.
Trip Cost Excludes
Lunch and dinner at Kathmandu.

Laundry, telephone calls, Bar Bills ( Mineral Water, cold drinks, whisky, beer etc),

Emergency evacuation if required, donation, tips and all personal nature expenses.